Say goodbye to the rain and hello to some much-needed sunshine! Summer is just around the corner and Sacramento is gearing up with an impressive line-up of outdoor activities, family-friendly events, and celebrations. We also have some recommendations for where to catch a dad-approved meal this Father's Day. Read on for the full scoop!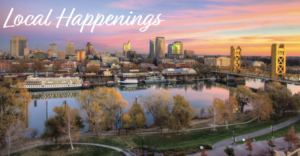 Click on the below links for a round-up of exciting ways to spend time in and around the Sacramento region!
Sacramento Events:
River Cats Schedule: Click Here For June Games
Sac Republic FC Schedule: Click Here For June Matches
Concerts in the Park: Click Here For This Year's Schedule
Now through September 30: Waterfront Yoga in Old Sacramento
June 6-9: Roseville Rosefest
June 6 (and select Thursday's): Thursday Night Twilight Concert Series in Folsom
June 8: The Festival of Dreams @ The Grounds in Roseville
June 8: 2nd Annual Rock the Line in Folsom
June 8: Celebrate OaxaCA Festival
June 8, 15 & 22nd: 2019 Pops in the Park
June 9: SacPride 2019 Parade & Festival
June 9: Sacramento Antique Faire
June 9: Miranda Sings @ Crest Theatre
June 10 (and Select Days): Outdoor Movie Nights @ Folsom Historic District Amphitheater 
June 11: WWE Smackdown @ Golden 1
June 12: Jennifer Lopez @ Golden 1
June 13 – Sept. 19: Out on the Boulevard @ El Dorado Hills Town Center
June 15-16: Family Campout @ Fairytale Town
June 15: Andrea Bocelli @ Golden 1
June 16: Father's Day BBQ @ Sacramento Zoo
June 16: Father's Day River Cruise aboard Hornblower
June 21-30: 2019 Sacramento French Film Festival 
June 22: Glamp Out @ Camp Pollock
June 22: A Midsummer Night's Dream & Crystal Ice Cream Fantasy
June 29: Historic Folsom's Hometown Parade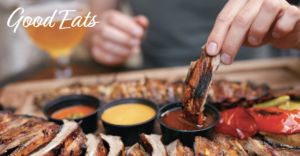 "Father's Day Approved" Lunch Spots: Father's Day is just around the corner on June 16th! And what better way to celebrate dad than with a delicious lunch in his honor? Below are our three favorite "Father's Day Approved" lunch spots.
Sauced BBQ and Spirits: Father's Day and barbequing seem to go hand in hand. But don't let dad do all the work on his special day! Instead, head on over to Sauced BBQ & Spirits for some good old-fashioned, authentic BBQ with classics including sliced brisket, pulled pork, ribs, and chicken. Oh, and don't forget the sweet honey cornbread, mac n' cheese, and crispy fries. With plenty of flat screens and a fun and social environment just across the street from the Golden 1 Center, dad won't be disappointed.
Bacon & Butter: Does dad have brunch on his mind? Pay a visit to Bacon & Butter. This popular farm to fork brunch spot now has two locations – one in East Sacramento and the other in Tahoe Park. And it's no wonder! Their brunch dishes are out of this world. Not sure what to try? For starters, get a side of their crispy bacon. Their grilled cheese benedict is another dish that you can't go wrong with. Just make sure to arrive around opening time as their locations pack up quickly!
Crawdads on the River: With beautiful weather and plenty of sunshine ahead, take dad to a lunch spot that not only impresses with its food but also with its killer views. We've recommended Crawdads on the River before, but it makes for such a fabulous Father's Day lunch spot that we had to give this place another shout out. Guests can come by car or boat to enjoy a casual, laid-back atmosphere with fresh seafood, a cool beverage, and mesmerizing views. For starters, try their famous "Crawdad Chowder Fries", a creative dish that is made up of French fries, clam chowder, cheddar cheese, bacon, green onions, and parsley. It may sound like an odd pairing but trust us when we say it's delish! If you prefer something lighter, you can't go wrong with their fresh "Shrimp Cocktail". For a main, dive into their "Blackened Fish Tacos" or their simple yet mouth-watering "Fish & Chips".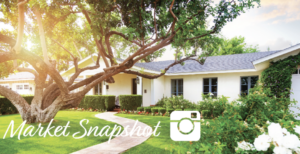 Wondering how the housing market is shaping up? Click here to learn why U.S. buyers are trading up.